Staghorn Gold Project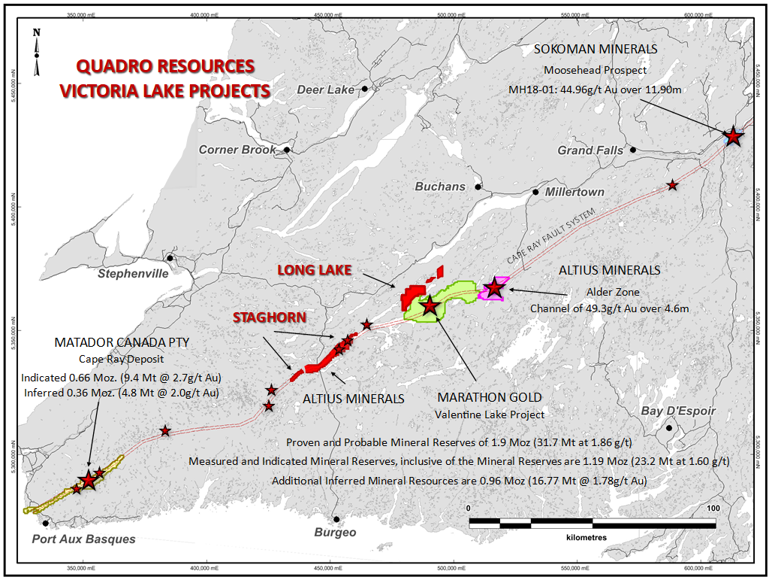 Quadro Resources is focused on the gold rich Cape Ray Fault system, described as one of the most prospective but underexplored regions in Canada. Its main asset is a 100% interest in the Staghorn Gold project. Located in west-central Newfoundland, the project comprises the Staghorn property and the recently optioned Long Lake property. Both properties cover portions of the auriferous Cape Ray Fault system which hosts a number of active gold exploration programs including Marathon Gold's Valentine Lake deposits (Total Measured Mineral Resources (inclusive of the Mineral Reserves) comprise 1.9 Moz (31.7 Mt at 1.86 g/t) with Indicated Mineral Resources (inclusive of the Mineral Reserves) of 1.19 Moz (23.2 Mt at 1.60 g/t). Additional Inferred Mineral Resources are 0.96 Moz (16.77 Mt at 1.78 g/t Au). Mineralization hosted on adjacent and/or nearby properties is not necessarily indicative of mineralization hosted on the Company's property.
160 claim units covering 4000 hectares (40 sq. km). Work by Quadro on the northeast extension of its claims has identified three gold rich systems that require follow-up drill testing.
Quadro has completed three drill programs to date:
Sep-Dec 2020 – A total of 1696 meters was completed in thirteen holes. The drilling tested two of four soil anomalies in the Marks Pond area and attempted to expand on the Ryan's Hammer mineralization previously tested in 2018. There has been no previous drilling carried out on the Marks Pond targets. The highlight of the program was the discovery of a new gold zone at Mark's Pond where hole MP20-02 intersected 10.1 g/t over 1.0m within a wider interval of 3.22 g/t Au over 5.0 m.

Nov-Dec 2017 – 1466 m in 9 holes focused on the Woods Lake Zone. This program confirmed the widespread extent of an auriferous altered granodiorite within a flexure of the Cape Ray fault and will require additional drilling to better define higher grade zones within the package.

Nov-Dec 2018 – 887 m in 5 holes focused on completing a fence of holes across the Cape Ray structure at Ryan's Hammer. This drilling combined with previous drilling to the east has partially outlined two wide gold trends with only one drill cut in each trend.
The initial three holes in the program (MP20-01, 02 and 03) were targeted on soil anomaly "B" (see the Quadro news release dated October 20, 2020) with the first hole collaring in the zone at 5.5 meters. Three later holes (MP20-08, 09 and 10 were drilled to the southwest of the Marks Pond zone in an area of low soil values. Four holes (MP20-04, 05, 06 and 07 were drilled to test soil anomaly "D" located 800 meters to the northeast of the Marks Pond zone. Hole MP20-04 intersected 5.05g/t over 1.0m however the core was extremely broken resulting in significant core loss in the mineralized zone. It is anticipated that the use of controlled drilling using a split core tube could significantly improve the core recovery and future drilling will incorporate these technologies. Another three holes (RH20-01, 02 and 03) were drilled in the Ryan's Hammer area, where the source of high grade gold-in-float found in the area remains unsolved. Two of these never reached bedrock and were lost after penetrating over 60 meters of overburden.
Follow-up drilling is planned for a February, 2021 start and will concentrate on the Marks Pond area. Winter conditions will allow for easier access to do step out drilling on the new zone and allow for testing of the other soil anomalies in the area.
DDH
Azim/Dip
FROM
TO
INTERVAL
(m)
Au g/t
Comments
MP20--01
330/-45
5.5
29.0
23.50
0.48
Marks Pd soil anomaly "B"
incl
12.0
16.0
4.00
1.19
Collared in mineralization
and
26.0
29.0
3.00
1.02
MP20-02
330/-45
73.2
96.0
22.80
1.09
65m behind MP20-01
incl
76.0
88.0
12.00
1.98
incl
83.0
88.0
5.00
3.22
incl
87.0
88.0
1.0
10.10
MP20-03
330/-45
68.0
84.0
16.00
0.85
40 m NE of MP20-01
incl
69.0
72.0
3.00
2.38
MP20-04
330/-45
94.85
95.85
1.0
5.05
Marks Pd soil anomaly "D"
Significant lost core
MP20-05
327/-45
24.0
63.0
39.0
anomalous
Marks Pd soil anomaly "D"
MP20-06
330/-45
NSV
Marks Pd soil anomaly "D"
MP20-07
330/-45
NSV
Marks Pd soil anomaly "D"
MP20-08
275/-45
NSV
West part of diorite unit
MP20-09
320/-45
NSV
South of A zone
MP20-10
320/-45
99.9
100.35
0.45
3.63
140 m southwest of A Zone, significant lost core
RH20-01
340/-45
Ryan's Hammer
Lost hole in overburden
RH20-02
340/-50
Ryan's Hammer
Lost hole in overburden
RH20-03
332/-55
NSV
700 m W of Ryan's Hammer
Marathon Gold's Valentine Lake deposits and Quadro's Staghorn and Long Lake properties are on strike from each other and are traversed by the auriferous Cape Ray Fault and associated Rogerson Lake Conglomerate unit. The properties are separated by a 30 km expanse of water (Victoria Lake).
The Marathon property hosts the multi-million oz Valentine Lake gold trend which terminates to the southwest at the shore of Victoria Lake. The northeast part of Quadro's Staghorn property extends to the opposite shore of Victoria Lake (Ryan's Hammer area), where similar gold mineralization has been located in float and drill holes.
Marathon's gold system consists of a series of stacked Quartz-Tourmaline-Pyrite-Gold veins hosted in a granodiorite unit, proximal to the overthrust Rogerson Lake Conglomerate. Mineralization at Staghorn is generally hosted in Arsenopyrite-Pyrite-Quartz veins within a diorite/granodiorite unit proximal to the Rogerson Lake Conglomerate. Gold is also found in strongly sheared sediments associated with the Cape Ray structure.
Previous drilling at the Ryan's Hammer, Ryan's Hammer East and Mark's Pond soil anomaly amounts to approximately 1000 meters. Two new wide auriferous zones have been discovered from this drilling and now require step out drilling.
Drill targets include the Ryan's Hammer prospect, located in the northeast end of the property, where prospecting has uncovered numerous angular float of altered diorite containing high grade gold up to 32.15 g/t. Limited drilling has defined two gold rich horizons. The eastern zone was discovered by Benton Resources Inc. in 2015 (drill hole RH-15-01, azim/dip 340/-45) when they intersected 0.22 g/t Au over 42.6 m in altered diorite (see National Instrument-43-101 Technical Report on the Staghorn Gold Property, NL for Quadro Resources Ltd dated June 12, 2017, by Timothy Froude, P Geo). The eastern horizon located 600 meters across strike to the west was drilled by Quadro in 2018 (drill hole ST-18-01, azim/dip 278/-50) resulting in an intersection of 0.145 g/t Au over 50 m in a graphitic horizon. True widths of either zone are not known as there has been no follow-up drilling done on these zones.
A second target in this area is also slated for drill testing. The Marks Pond Au-in-Soil anomaly is defined as a strong 800 meter by 300 meter soil anomaly (up to 7,000 ppb Au) which is coincident with the northern edge of a diorite plug and the regionally significant Rogerson Lake conglomerate.
QA/QC – Quadro implemented a quality control program on its drill programs at the Staghorn Project to ensure best practice in sampling and analysis. Quadro maintained strict quality assurance/quality control protocols including the systematic insertion of certified standard reference and blank materials into each sample batch. Analyses in this release were performed by Eastern Analytical of Springdale, NL with ISO 17025 accreditation. Samples were transported in sealed bags to Eastern and all samples were assayed using industry-standard assay techniques for gold. Gold was analyzed by a standard 30 gram fire assay with an AA finish.